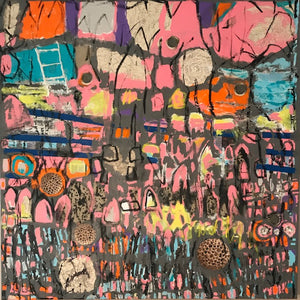 • Castle Rock • Deep Time • Edinburgh • Edinburgh Castle • Edinburgh Festival • Fringe Festival • James Hutton • Limited Edition • Linnea Lundgren • radio laria • Work on Canvas • Work on Paper
'Deep Time'
is a concept developed by the geologist,
James Hutton
(1726-1797); referring to the idea that evolution can only be measured over vast, immeasurable amounts of time where numbers no longer have any meaning. Edinburgh born, Hutton was considered to be the founding father of modern geology.  He proposed that Earth was a lot older than 6,000 years, as most people thought at the time.
'Deep Time'
is also the title that was given to the opening event of the 2016 Edinburgh International Festival, in Edinburgh where the artist lives. My painting tries to convey these ideas and this history.